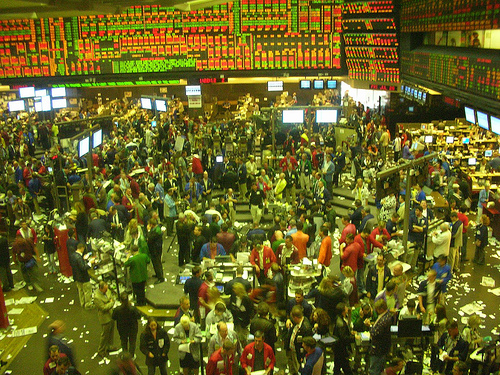 Trading has always been either a lone-wolf endeavor, or a competitive group smash-up that looks like a rugby scrum.
The typical image of the daytrader is a guy or gal who sits at a messy desk stacked with pages of charts and graphs and who continually sips on highly caffeinated drinks. The daytrader stares at a screen and every few seconds clicks on the mouse, tallying another winning trade.
Another image is the trader in the pit. Juiced up on coffee and pepto-bismol, the pit trader screams and flashes what look like gang symbols  all day to make and lose money.
None of these stereotypes are very inspirational for people considering stock trading as a viable wealth generator. But, thanks to the Internet and the continual acceleration of technology, there's a new way to look at trading: communal, cooperative, and collaborative. Social networks for stock traders are growing.
Here are nine of the most popular stock trading social networks and social bookmarking sites that have investors and traders in mind. (And please let me know if I missed any! Add them to the comment section.)
Tip'd is an investor's Digg. But it isn't just for investors and traders; its social link sharing service has lots of links to blog posts and articles about personal finance, real estate, innovation, and other business-related topics.
Zecco is a low-cost brokerage. But it's one of the first to recognize that trading is a social occupation. The brokerage built a community to share ideas and pass along insights.
Stockpickr doesn't just let you know what the average investor is thinking; you can see what moves other famous investors–like Warren Buffet–are making.
Trading and investing is a global business. MoneyVidya is an Indian stock-trading network.
Take twitter and add traders and you got Stocktwit. It's a fun approach to collective intelligence for traders.
This site lets users read and submit articles about trades and investments.
Described as "a one stop shop for stock market beginners," Trader Planet also features a community and provides "news, research and training for professionals and seasoned expert."
Tickerheads is a community for trading ideas and social network for traders and investors.
Feed the Bull is a social bookmarking service that allows people the opportunity to add links to articles and blog posts about investment and trading issues.