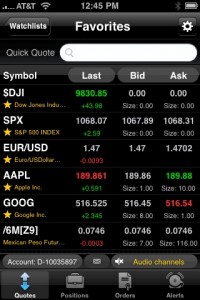 One day, your ability to generate wealth will be automatic and ever-present.
How can we make this assertion?
The exponential wave of technology, which is turning the globe into interconnected, untethered web of information, will eventually wash over the world of personal finance.
Those first waves have already lapped onto the shore. The tsunami, though, is building.
In this untethered world, the power of mobile financial apps are growing in power.
Here are some  great apps you can use to monitor the market and, in some cases, use to trade.
Yahoo Finance app. Yahoo Finance is a great site. This app gives you access to all the markets—Dow Jones, Nikkei, S&P—throughout the trading day.
eTrade Mobile Pro. You can pretty much trade anywhere, anytime with this.
iSwim from Think or Swim. The iSwim is a popular trading app from a company that has a reputation of being one of the most innovative companies in the trading sphere.
For Ameritrade users, the iStockManager app brings real time stock streamer to the iPhone.
Bloomberg Mobile. Get all of Bloomberg's powerful tools and data in your hand
Daily Finance is the only free application that provides real-time stock quotes, tracking for multiple portfolios, customizable news from over 3,000 sources and professional-grade charting.
FX360 Forex. For Forex traders, you can check out FX 360.
Did I miss any of your favorite apps? Feel free to pass on your favorite mobile apps.