Book Review: Is $100 Startup Worth the Time and Money?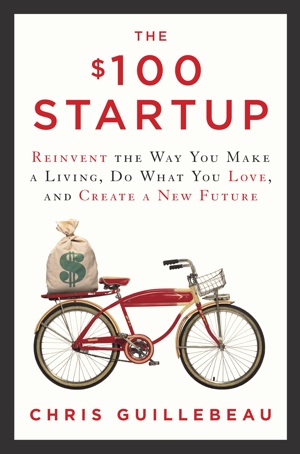 I've become disenchanted with the whole "alternative income, new lifestyle, instant riches" line of books recently.
Disenchanted isn't the right word.
Bitter. That's more like it.
In fact, I've blogged about it in the Douchebag's Guide to Instant Riches on the Internet. Basically, since the 4 Hour Work Week came out, writers have been stealing Tim Ferris's script and churning out books with very little new information and a total absence of information that addresses some of the criticisms of the alternative income idea. Book after book said, "Find something you like, write about it, and create an informational product… then just count the checks."
I was expecting the same with the $100 Startup: Reinvent the Way You Make a Living, Do What You Love and Create a New Future, by Chris Guillebeau. I just about gagged when I read the title. In fact, the only two reasons I could think of to order this book was:
a) I had money left over on a gift card.
b) I like that new book smell.
And I now can admit that I am… actually enjoying the book.
Indeed, some of the principles are the same, but Chris does a much better job handling expectations and turning those expectations into market insights. Right off the bat, Chris cautions you that creating a new lifestyle business isn't guaranteed. Not all of your hobbies translate to successful businesses. And don't even try to tap away on your laptop on some exotic beach. The glare!
All of those deeply-loved, but deeply-flawed images that are cherished by new lifestyle buffs aren't based on actual experience and — in fact — can be damaging to people on the verge of creating a successful business.
For instance, if your hobby is collecting plastic waste paper bins, the common wisdom is to build a blog about it and then write and sell an eBook about it. Then, you just sit back, sipping Apple-tinis while you watch your Paypal account increase so much that the company may have to create new spaces for all those zeroes. But, as the $100 Startup points out… the market size may be small and the market interest may even be smaller. A book on waste paper bins is like opening a restaurant where the customers must make their dinner. As Chris says, you're offering your customer a fish… not cooking it for them.
Full disclosure: This is exactly what we were thinking when we wrote the Wealth Singularity. To finance our business, we grabbed a lot of good information about something we were interested in — how new technology is creating a new economy — and we wrote an eBook. And… then… nothing.
Had Chris's book been out at the time, he would have cautioned us to look at the market size. In our case, that's pretty small. And, also, what solution does our book offer to a problem? Does it have good info? Yep. Is it interesting? Yep again. Does it solve a vital problem for our reader? Probably not enough to warrant the cost.
The thing is… When authors give the impression that creating a new lifestyle business is just a simple, easy three-step process, they are actually limiting the chances of their readers' ability to create a successful business. Researching new products and testing products is covered in $100 Startup. Chris is good about pointing out that if something doesn't seem successful… bail out and find something new.
I'm about three-quarters through the $100 Startup–and already think it's worth the time and money.
You can check out Chris's blog at The Art of NonConformity.
Let me know what you think about the book–or any of the the new lifestyle books in the comment section below.