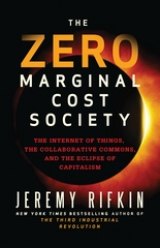 The predominant economic systems are capitalism and communism. Both have their problems, which seems to explain the existence of mishy-mashy socialism in most countries.
Most futurists debate which economic system will dominate the next century. That's a mistake, according to some experts, like Jeremy Rifkin. Rifkin recently wrote The Zero Marginal Cost Society that looks at how technology and ideas, like the Collaborative Commons, will re-shape the financial status quo.
Adding sensors to just about everything will move the power of info-centric businesses — think energy and utility companies — back into the hands of individuals. If a person had smart enough algorithms, for example, they could purchase energy much more efficiently, use it efficiently, and save it efficiently. In a very real sense, an individual could run their own utility company.
But, that's just the beginning. Let's try to connect all the zero-marginal cost technologies. 3-D Printing has already received lots of hype, but buried deep within this technology are several — forget disruptive — transformative technologies. What if you could 3-D print your own efficient solar cells? What if you could 3-D print your own efficient battery? Let's go crazy here. What if you could 3-D print a fusion reactor for your home.
So, now you're going to not only be a smart consumer — a prosumer in Rifkin's lingo — to a smart producer — or a producer… wait, that doesn't work. Anyway, what happens when you produce something for almost free and use it so efficiently that you avoid costs. Well, everything becomes nothing. In other words supply increases to near infinity and costs fall correspondingly to near nothing.