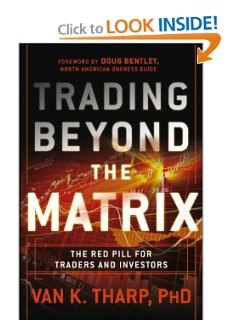 I'm reading Van Tharp's latest book, Trading Beyond the Matrix. I just started it so this will not be a complete review — expect that in the future, though.
But I am already intrigued.
Tharp believes that you don't trade or invest in the market; you trade or invest in the beliefs of the market. Those beliefs are yours to control, or to allow them to control you. Hence, trading for Tharp is almost a yoga, a mental connection between brain and spirit. Indeed, there are yogic paths that stress mental exercises and meditation exercises.
But we don't think of trading as a spiritual act. In fact, it's treated almost as an act of defilement. Our society has twisted views on wealth and earning wealth. We praise and hate the practice. The structure of our tax system treats earning money as a sin by punishing — not rewarding — you for earning more money. It's the ultimate sin and deserves the ultimate sin tax. Notice: there's no progressive sales tax on cigarettes or alcohol based on use or over-use.
Tharp though approaches it almost as a Zen philosopher, who sees the extraordinary in the ordinary and the ordinary in the extraordinary. By consciously watching your thoughts and beliefs, the trader is learning about himself. As he learns about his mind, he is learning about the universe.
I sort of saw this coming from Tharp. The last book of his that I read — Super Trader — contained the prerequisite number of charts and graphs, along with trading tips, but did not shy away from spiritual matters. Tharp believes they are closely connected.
Once I'm finished I'll try to post a review, or summary, of Trading Beyond the Matrix.
Resources:

Dreams Come True, Great Books, Investing, Money, Online Investing AI, Success beyond the matrix, spirituality, tharp, trading, van tharp