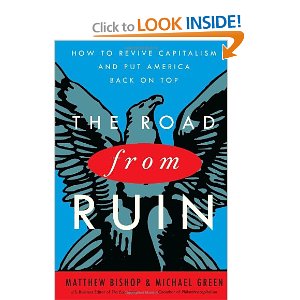 Things look precipitous.
That means, freaking scary. As in, falling off a steep ledge freaking scary. Europe is in shambles. Oil is threatening major industries in the southeast United States (like they needed the challenge).
We've talked about the problems here and here, too.
Other bloggers are talking about the uncertain financial future. Most are doubtful that the world's governments are going to have any success with either their stimulus or austerity programs. In fact, they'll lead to more instability.
Is there a way out?
Authors Matthew Bishop and Michael Greene recognize that we're on the Road to Ruin, but believe there's a way out: the free market. Their book, Road to Ruin, How to Revive Capitalism and Put America Back on Top, explains their philosophy.
In their (at present) contrarian approach, the problem with the economy isn't a lack of regulation; it's that there's too much bad regulation and it's lorded over by political cronyism.
According to Bishop and Greene, "there is even a bigger problem than toxic assets, that's toxic ideas."
It's certainly a different outlook from the dozens of Congressional and executive committees that are spending months–and millions of dollars–trying to figure out who to blame for the recent economic demise.
The authors suggest that bureaucratic intervention will not lead us into prosperity. We have to trust the free market to jump start economic engines.
Surface evidence supports this theory. Despite trillions of dollars of stimulus, the global economy is still shaky. The unemployment numbers show that federal job creation is vastly outpacing private sector creation. That's unsustainable.
But the free market has been able to dig worse economies out of worse jams before. The question, though, is will it be painless? Despite the angst shown at stimulus spending, most Americans are likely not ready for the creative destruction that's unleashed as a free market gets its bearing.
It would be interesting to see if Americans–and actually people around the world–will find that the medicine is worse than the symptoms.
What do you think? Can capitalism save the world economy, or are we doomed! Doomed! DOOMED!