I've been using Dragon NaturallySpeaking (version 10 standard) for about two weeks now. I have to say it works really great. Much better than I imagined. I had read about how Ray Kurzweil uses similar software all the time, and even used it to write his books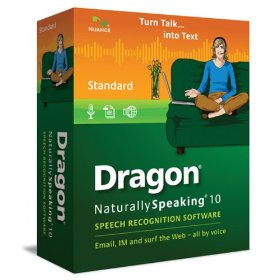 Maybe you are one of those people who has to experience it to believe it. I was one of those people. The good news is that it can replace about 95% of most people's typing. For me, it works great for typing my blog posts for me, e-mail, and online chatting.
The only place it doesn't work that great for me yet is when doing programming. So if you're a programmer, and you're using a voice software, please comment and let us know the best way to do it!
Here are some tips on using Dragon NaturallySpeaking:
You need a lot of memory! On Windows XP it uses about 500 MB. Memory is cheap, so this is no problem.
It also takes a little bit of getting used to. As with any program, it takes some trial and error to learn how to get it to work well.
Don't worry, if it doesn't work perfectly for you. In the next year or two it will improve dramatically!
If it is not sending the text to the program you are working with, try closing all other programs, or any programs or web pages which may be using the CPU (like Pandora)
For version 10, you need to have a computer CPU that has SSE-2, so it won't work with old computers.
Another fascinating aspect of using the software, is that it allows you to have a very different experience from typing. When you talk or dictate, it uses a completely different part of your brain from when you were typing. You may find, that it is much easier to dictate your e-mails, blog posts, or even a book that it is to type it.