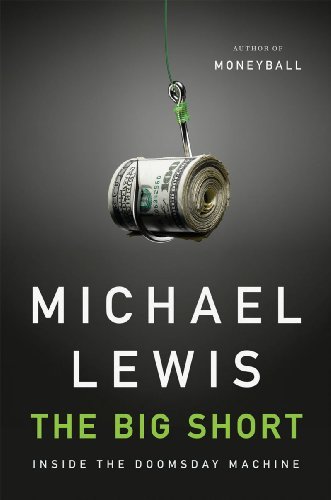 Right now I am reading The Big Short
by Michael Lewis. It is the story of Mike Burry,  a one-eyed medical student, and his ability to pick value stocks. His hedge fund was a runaway success, and his investment career is really amazing.
Ultimately, his success seems to be caused by his ability to see things differently. He has the confidence to analyze a stock, and decide for himself what the value should be. It's a pretty common strategy for value investors.
He used his ideas for analyzing stocks and applied them to the housing market. By 2005 he was convinced that the housing market would come down and that many of the subprime loans would default. The interesting thing is that when he started investing in derivatives that would make him hundreds of millions of dollars (if not billions), everyone else was oblivious. Including the people on Wall Street.
Mike Burry made a ton of money because he noticed that all these people getting subprime loans and teaser rates would never be able to pay their debts. Everything was fine as the market went up, but he knew there would be a turning point. As soon as the market stopped appreciating, he knew that borrowers would not be able to refinance, and the rates of default would skyrocket.
In retrospect it seems easy to predict the housing crash and subprime crisis, but at the time most people blissfully thought that housing prices would increase forever. They also thought that the mortgage industry was responsible enough to make loans to people who were likely to pay back. Thanks to Mike's isolation from Wall Street and his own self confidence, he saw things differently. And, he thought that the day of reckoning was just a few years away. He was right.
I see a similar situation with government spending, derivatives and global markets. It's pretty clear that the government is not going to be able to pay back, and it is going to have to do something drastic. Derivatives were the financial tool that would have brought down AIG, if it weren't for government intervention. And financial crisis in places like Greece make it clear that whole countries can default. I wonder if the writing is on the wall, but again most people are blissfully unaware.
Although no one has a crystal ball and is able to see the future, I think that all of us have the ability to study history and find out what has happened in the past. Although technology has changed drastically in the recent past, human nature has stayed the same. It seems quite possible for us to look at the financial chaos in history and see what could happen or what is likely to happen for us in the near future. Everyone has the ability to learn and grow, but only a few will choose to do it. For those what are interested in the writing on the wall, I think The Big Short is a great place to start reading.