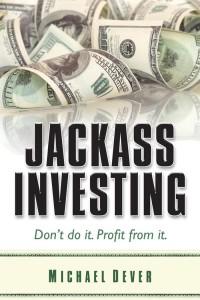 If you've ever visited the department of motor vehicle's office, or an open bar office Christmas party, you know that the number of jackasses in the world considerably outnumber the rest of humanity.
These are the same people who bought dotcom stocks for thousands of times their net worth and took $700,000 mortgages on homes worth about $200,000 a few years before.
So, that's bad for investors, right?
Not according to Michael Dever and just some good old common horse sense. You can actually learn how to take advantage of these jackass investors.
Dever, who is Founder, CEO & Director of Research of Brandywine Asset Management, says you can take advantage of jackasses to make money as an investor. In fact, he's written the book about it. It's called Jackass Investing: Don't do it. Profit from it.
The book, which Dever says is the result of a decade of research and three decades of trading experience, teaches some contrarian lessons.
For instance, Dever believes that every decision is a trade–even the decision not to trade. He names that decision the Rush trade, after the rock band.
One difference between investors and jackass investors is whether they know if they're investing… or gambling.

Great Books, Investing, Money advice, bonds, books, debt, finances, Investing, stocks, Success