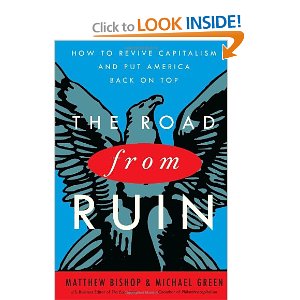 Things look precipitous.
That means, freaking scary. As in, falling off a steep ledge freaking scary. Europe is in shambles. Oil is threatening major industries in the southeast United States (like they needed the challenge).
We've talked about the problems here and here, too.
Other bloggers are talking about the uncertain financial future. Most are doubtful that the world's governments are going to have any success with either their stimulus or austerity programs. In fact, they'll lead to more instability.
Is there a way out?
Authors Matthew Bishop and Michael Greene recognize that we're on the Road to Ruin, but believe there's a way out: the free market. Their book, Road to Ruin, How to Revive Capitalism and Put America Back on Top, explains their philosophy.