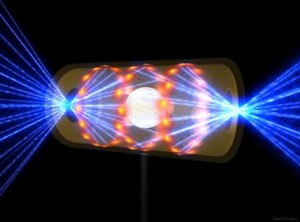 Dr. Evil would be proud.
The Mike Myers character always dreamed of sharks equipped with laser beams. The Lawrence Livermore Lab's National Ignition Facility (NIF) may make laser-tipped great whites look like exotic gold fish.
NIF is strapping 192 lasers together with 60 miles of mirrors and fiber optics, crystals and light amplifiers to zap a tiny bit of hydrogen. But, theoretically, the intense blast of light energy with create fusion, turning the hydrogen into helium and release a lot of energy.
How much energy? Say this with your pinky finger next to your mouth, Dr. Evil style, to get the full effect–5 trillion watts of energy! That's 1,000 times more energy that the U.S. makes in a year.
And, if it's successful, it should be enough to totally destroy the energy cartels that currently hold a stranglehold over the world's development.
I'm not surprised. Here's why.