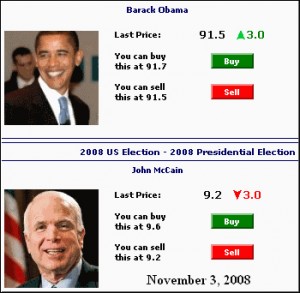 The types of derivatives and exotic derivatives that are traded are pretty amazing. You can take positions on everything from interest rates to weather, from pig futures to soybeans.
You haven't seen anything yet. The number of items that can be traded is increasing, another sign of advancing technology and the the continual search for new wealth building opportunities.The types of assets you can trade is also becoming more varied.
Just take a look at Intrade.
Intrade is a prediction market that's drawing a lot of interest. The prediction market allows people to trade typical commodities, like gold, oil, and currencies. Political outcomes, like the 2008 Presidential elections, are among the most popular trades on Intrade.
But, there are markets for a wide and weird range of other assets and scenarios.