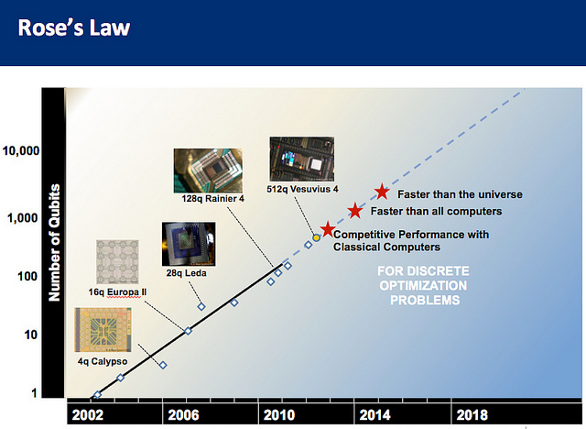 Most people think that quantum computers are vaporware.
Quantum computers are theoretical devices that manipulate quantum states — called qubits — to conduct operations that are way faster than normal computers.
For years, most folks made sure to bold and add quote marks to that "theoretical" part. For years, those who doubted quantum computers had plenty of room for dismissal–and plenty of company. Quantum computers just seemed to exist on paper.
But quantum computing just got real.
How do I know? Money talks.
The thing is, quantum bits — or qubits — can be easily disturbed. They're not as hardy as their unexponential classical brethren, the lowly bit.
But when researchers do figure it out, those qubits can be mighty powerful, I used to tell these Doubting Quantumases. If you put one bit and one bit together, you get two bits. But if you but a qubit and a qubit together, you get 2(n). Because of superposition, the qubit can be a 1 and an 0 and pretty much anything in between. At the same time.
But that sounded weird.
So no one really believed this was possible.
And those people, if they're not careful are going to be like the folks that told Henry Ford to get a horse and invested heavily in buggy whips.
Dwave, makers of what some believe is the first commercially available quantum computer, got some heavy hitting investors recently.
Accelerating Technology, Investing, Money, Success bezos, dwave, nobel, quantum computing, technology