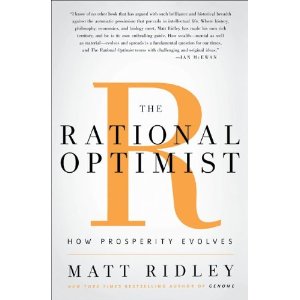 Things are falling apart.
Riots in Greece.
Oil spills and volcanoes.
Bailouts.
Sudden, inexplicable falls in the stock market.
But when we come to this conclusion, are we participating in a unique psychological phenomena that mistakes pieces for the whole? Another possibility, it that the media tends to over-report the negative and under-report the positive. As any good editor will tell you, "If it bleeds, it leads."
After reading the The Rational Optimist: How Prosperity Evolves
by Matt Ridley, you may start to understand the possibility that things aren't getting worse; they're getting better, much better.