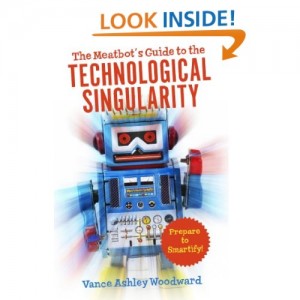 So, there I was in the middle of downtown Washington D.C. and I wasn't able to find any parking.
What did I do? I drove around aimlessly. Asked a few people, who had no idea where they were going. Got more frustrated. And swore until I stumbled onto a parking spot a few minutes later.
So. There I was in downtown Raleigh, N.C. and I wasn't able to find the convention center.
What did I do? I took a breath, tapped my fingers a few time and a few seconds later had a lock on the building and — boom — walked right over to it.
In about a two weeks, I went from being a directional dummy to a confident destination finder.
What happened?
Did I spend hours studying maps? Did I somehow become able to navigate automatically?
Nope.
I bought a smart phone.
Vance Woodward says in his book, The Meatbot's Guide to the Technological Singularity: Prepare to Smartify!
, that this type of smart phone-augmented intelligence isn't just the beginning, it's the beginning of the beginning of the rapidly approaching ability to radically augment  our intelligence. He calls it our ability to Smartify.
How much will we smaritfy? Try infinitely.
Vance, who writes at the Fantastic Future,  has become one of my favorite futurists and his book didn't disappoint. The Singularity, in case you haven't heard about this, is loosely defined as a point when technology leads to greater-than-human superintelligence.
2035 was a big year. In 2035 improvements in nanoscale engineering and SINI (Super-intelligence nonhuman intelligence) combined to enable humans to use seemless interface between human brain matter and external computer hardware. — Vance Woodward, The Meatbot's Guide to the Singularity.
The book is an unusual volume in the Singularity meme. It's a mixture of science and vision that's also pretty funny. That's unusual because, at least based on the last few books I read on the subject, futurist writers appear to come from two backgrounds. Either they are the engineering types, or they're the science fiction-y types. On one side you get the science of things like accelerating returns and exponential increases, or you get weird visions of the future.
Vance is able to offer both. He lays out current science and technological trends, then he leads you to where these trends could end up. And it may just be a really weird future. Weirder than we can imagine. And I have a weird imagination.