According to BlogPulse, there are now 150 million blogs on the Internet. And, that number is growing by 58,000 per day! What many people are discovering about having a blog is that traffic is not automatic. There are certain things we can do to increase the number of people who read our blog.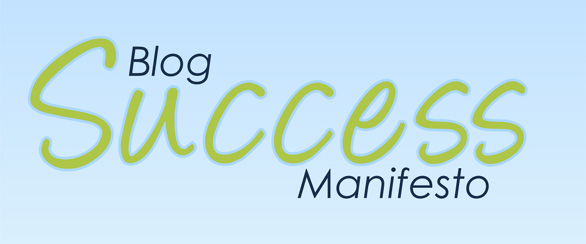 One of the best resources I have found is the Blog Success Manifesto from Erica Douglass. (Yes, it's free. You can get it here.) Although there are millions of eBooks and blogs about getting more traffic, I found this one particularly good. There are quite a few reasons that I like this eBook.
Why is this a good resource?
The first thing that jumps out at me is the attractive layout of the book. I think this is important, at least for me. If a book is boring to look at, I quickly get tired of reading it and look for something else. Perhaps there is a lesson about connecting with our audience here.
Another great thing about this book is that the information is clear, easy to understand, and actionable. For example, tip #10 is "Set your Permalinks Properly". This tells you how to set up WordPress to give your posts relevant titles. It may seem like a small detail (at least to a new blogger), but it allows search engines to better rank your pages. I think that is critical to blog success.
Another great thing about Erica's story is that she is having great success with her blog. Currently she has 13,000 readers (according to FeedBurner). So, it seems that she definitely knows what she is talking about.
I wonder if most people might say,
I don't care about doing all that work just to get traffic. If people want to read my blog they can come and read it.
Actually this attitude is common among people starting out in business. They think that if they deliver a great product or service, people will naturally come. That's true. But there are two problems with this way of thinking.
First, it may take a long time for enough people to find you. Word of mouth (or post, for that matter) is a very powerful force. However, it usually takes a long time to see the effects. Most people will starve to death before they get enough clients from just word of mouth.
Another problem is that people just can't find you. If you are one of 150,000,000 blogs, how is anyone going to find you? I think that as a blogger we want to do everything we can to make it easy for our readers to find us. And using blog marketing strategies like these is probably the best way of making it happen.
Every day there are more and more people reading blogs. I think that everyone should have one. Using resources like these to grow our blog enables everyone to achieve their dreams of success.