Free Stock Pick Software
Free stock pick software would be a great thing for investors.
Individual traders and investors could use the software to scan through all the stocks available and pick the stock that will go up. Then, they could use the free stock pick software to make the trade.
It would be a real boon for investors.
Unfortunately, the free stock pick software that I have reviewed doesn't really do those things. Most free stock pick software that I have tested will screen stocks, but it's usually just a single pick and the information might be based on past results, so it's not real time information. In other words, free stock pick software isn't really as helpful as real time data.
Another problem is that to create a portfolio you would need to invest a lot of time with your free stock pick software investigating different stocks. It's almost a manual process.
Finally, free stock pick software does not make the trade for you.
Online Investing AI is trying to develop automated trading systems that accomplishes the things that free stock pick software doesn't. Online Investing AI can analyze multiple assets, decide when the best times are to enter and exit the position, and automatically places the transaction with your compatible broker.
For more information about autotrading software, check www.OnlineInvestingAI.com and learn how to Get Rich Smart.
Check out the latest blog post.
July 8, 2014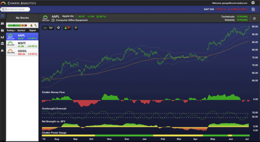 Chaikin Analytics Review and Free Trial
One of the biggest hurdles that the individual investor faces in trying to create a nimble, smart portfolio is the competition.
Investment bankers, quants, mutual fund companies, and big Wall Street firms are employing Ph.D. researchers with degrees in everything from finance to physics to create model portfolios. They use the latest and most powerful technology to guide their buys and sells.
The little guy doesn't have a chance.
That's what I thought, until last week. George and I had a chance to see a demonstration of Chaikin Analytics, probably one of the most complete set of investment tools and stock market model-building technology that's available for the money. Or at least I've ever seen.