Welcome to our Resources Page.
We believe that life is a long term learning process, and here are some of our favorite resources.
The Wealth Singularity
by George Ulmer and Matt Swayne

This eBook is full of clear, actionable information about how to use accelerating technology to make money.

The Singularity is Near by Ray Kurzweil

This is the book that started it all. If you want to know about the future, it is the best book I've found. Absolutely fascinating.

Amazon

Rich Dad Poor Dad by Robert Kiyosaki

The most popular personal finance book of all time. A must read for anyone who wants to become financially successful.

Amazon
Stay updated with the latest info.
We will never rent or sell your email address to third parties.
Check out the latest blog post.
July 8, 2014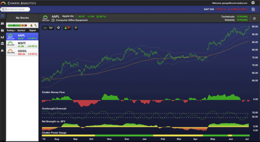 Chaikin Analytics Review and Free Trial
One of the biggest hurdles that the individual investor faces in trying to create a nimble, smart portfolio is the competition.
Investment bankers, quants, mutual fund companies, and big Wall Street firms are employing Ph.D. researchers with degrees in everything from finance to physics to create model portfolios. They use the latest and most powerful technology to guide their buys and sells.
The little guy doesn't have a chance.
That's what I thought, until last week. George and I had a chance to see a demonstration of Chaikin Analytics, probably one of the most complete set of investment tools and stock market model-building technology that's available for the money. Or at least I've ever seen.