Why Online Investing AI?
Online Investing AI started with a simple thought: If technology is creating exponential gains in performance, profitability, and productivity for industries, what could it do for investing?
One answer: It could make an infinite money-making machine.
Online Investing AI unites advanced artificial intelligence technologies with equally advanced trading theories to make an investment platform that would provide exponentially-higher returns at low risks. We also wanted to provide this to as many people as possible, so that it wasn't just wealthy people who could tap into high-yield private equity and hedge fund returns.
But it's not the money machine that's the ultimate goal. It's not even the ever-increasing returns. The ultimate goal is to create more security and freedom for you to pursue your dreams, goals, ambitions, and fleeting fancies.
Isn't that what it's all about?
So, if you were an Online Investing AI member, how will you use your new income?
Will you quit your job so you'll have time to write that novel, the one that's itching to get on paper?
Will you volunteer and spend your money and time on a charity that's close to your heart?
Will you send your kids to college, or maybe, you will send yourself to college?
Will you get out of debt first?
How about a new house?
Trade in the old car?
Isn't it time you finally get to Europe? How about Italy or France?
Whatever your ultimate goal is, here is the technology to help you achieve it.
What will you do for the rest of your life? Its your choice.
Stay updated with the latest info.
We will never rent or sell your email address to third parties.
Check out the latest blog post.
May 13, 2013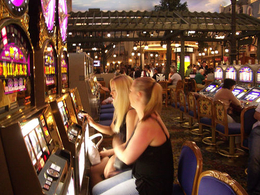 Are You an Investor, or an Investing Addict
If you notice some of the terminology of investing, you'll see a connection.
Bet. Hedge. Loss. Long-shot. Odds. Risk.
All of these terms are interchangeable with gambling parlance. There's a connection between the two — and while most investors will tell you that they aren't gamblers, the words they use give them away. If there is a connection between gambling and investing, it follows that investing can have some addictive features, just like gambling does. Gamblers, after all, can go to Gambler's Anonymous. Should there be an Investor's Anonymous?
Investors may want to look at signs of addiction in their own trading behavior. Gamblers who become addicted to game of chance rarely are in ...Read More »»»