Why Online Investing AI?
Online Investing AI started with a simple thought: If technology is creating exponential gains in performance, profitability, and productivity for industries, what could it do for investing?
One answer: It could make an infinite money-making machine.
Online Investing AI unites advanced artificial intelligence technologies with equally advanced trading theories to make an investment platform that would provide exponentially-higher returns at low risks. We also wanted to provide this to as many people as possible, so that it wasn't just wealthy people who could tap into high-yield private equity and hedge fund returns.
But it's not the money machine that's the ultimate goal. It's not even the ever-increasing returns. The ultimate goal is to create more security and freedom for you to pursue your dreams, goals, ambitions, and fleeting fancies.
Isn't that what it's all about?
So, if you were an Online Investing AI member, how will you use your new income?
Will you quit your job so you'll have time to write that novel, the one that's itching to get on paper?
Will you volunteer and spend your money and time on a charity that's close to your heart?
Will you send your kids to college, or maybe, you will send yourself to college?
Will you get out of debt first?
How about a new house?
Trade in the old car?
Isn't it time you finally get to Europe? How about Italy or France?
Whatever your ultimate goal is, here is the technology to help you achieve it.
What will you do for the rest of your life? Its your choice.
Stay updated with the latest info.
We will never rent or sell your email address to third parties.
Check out the latest blog post.
July 8, 2014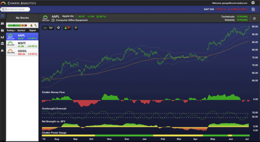 Chaikin Analytics Review and Free Trial
One of the biggest hurdles that the individual investor faces in trying to create a nimble, smart portfolio is the competition.
Investment bankers, quants, mutual fund companies, and big Wall Street firms are employing Ph.D. researchers with degrees in everything from finance to physics to create model portfolios. They use the latest and most powerful technology to guide their buys and sells.
The little guy doesn't have a chance.
That's what I thought, until last week. George and I had a chance to see a demonstration of Chaikin Analytics, probably one of the most complete set of investment tools and stock market model-building technology that's available for the money. Or at least I've ever seen.